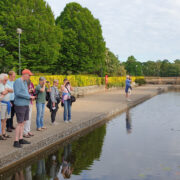 Friends of Eaton Park
FOEP works to help Eaton Park thrive.
We work with Norwich City Council and park groups to promote and celebrate Eaton Park, its inspiring history and the good things going on here.
We champion nature in the park and we organise heritage, conservation, planting, schools, cultural and community activities. We raise funds to pay for our activities and for things such as benches, ping pong tables and trees – things that all people can benefit from and enjoy.
---
Get involved
The first step to getting involved is to join up so that you receive our communications and can go on mailing lists for different activities. It costs as little as £5 a person to join. A form and bank details to pay by bank transfer can be found here. Volunteering opportunities exist in gardening, working with schools, meeting the public on band days and heritage open days; meadows and woodlands. Getting involved is a great way to meet new people and to learn new things in a beautiful place.
2 S Park Avenue, Norwich NR4 7AU