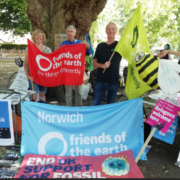 Friends of the Earth
Norwich Friends of the Earth is your local Friends of the Earth group in this vibrant city. We're working to help protect and sustain the natural environment in Norwich and the surrounding area.
We campaign locally and, where appropriate, nationally and internationally, on environmental issues, including, for example, climate change, climate justice, pollution, waste, transport, energy, wildlife, and habitat.
We aim to bring people together to promote positive change and work with other groups across the city collaboratively towards shared goals.
We're a friendly and positive group; everyone is welcome to join us.
---
Get involved
Fill in the contact form at https://groups.friendsoftheearth.uk/group/norwich-friends-earth. We have group meetings every 4 – 6 weeks and anyone is welcome to join us.